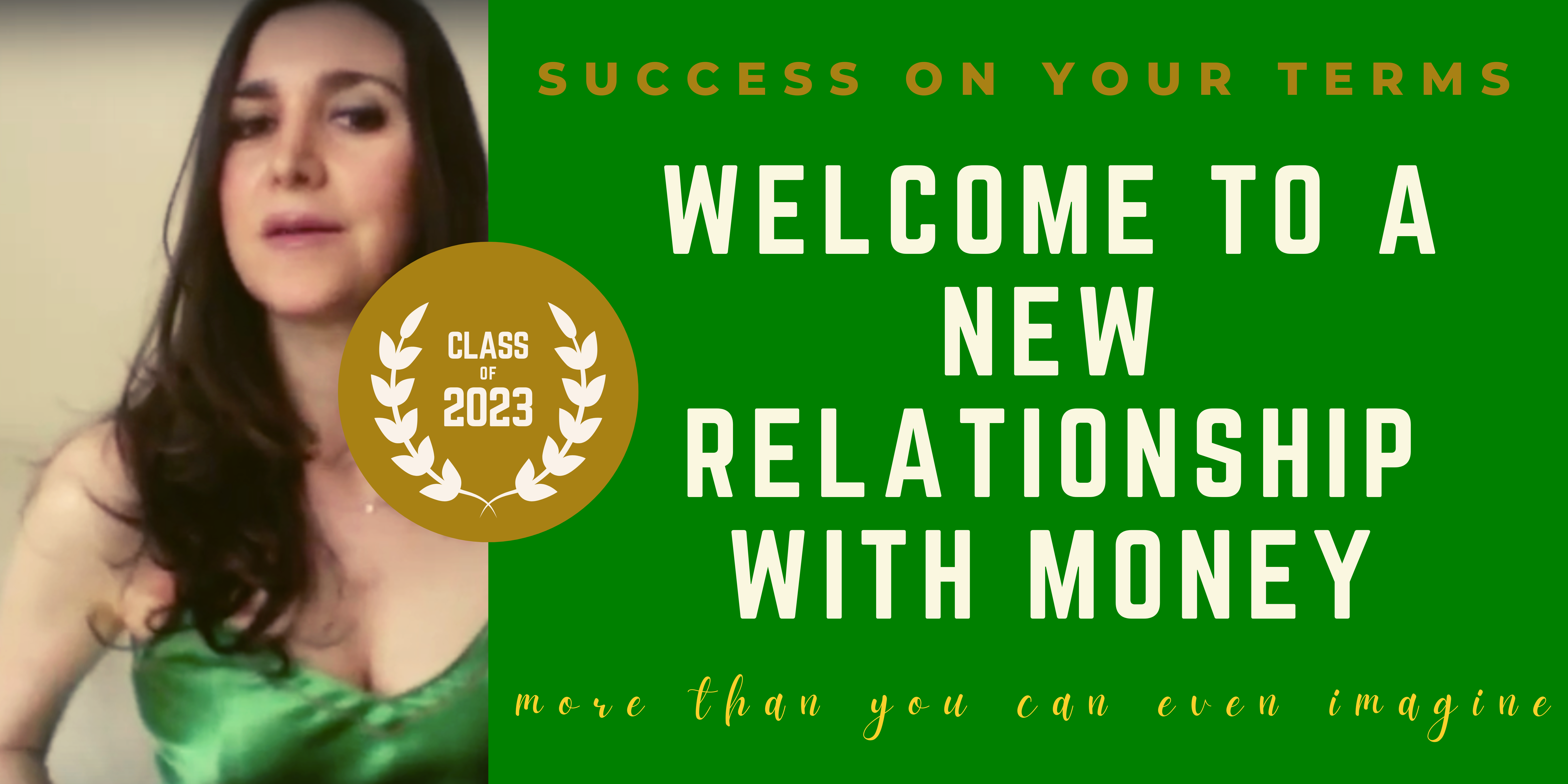 It might have started in your childhood… Money was a hot topic, creating havoc and uncertainty. Those feelings may still be lingering in your system.
No matter how much money you call in, it seems to filter straight out of your hands.
You want the abundance for all the right reasons. You know that it can offer peace of mind and allow you to support those you Love.
Being the full version of you requires a state of overflow so you can pursue what lights you up.
Learning, mingling, reading, exploring, creating… It all requires funding.
Let's get to the bottom of the issue. Money is important. No two ways about it. We need it to survive. And we need it to thrive.
In this course, we will unravel all the stuff. All of it. By unearthing the blocks, you clear up space in your mind to take in new more empowering beliefs.
Our brain is like a GPS, give it an instruction and it will go in search of the most efficient way to get you there…
That's probably how you landed on this page.
If money's been on your mind, let's change the script – from fear to Love.
There is no order of difficulty to miracles. Do the work. Be ready to heal the past. And set yourself up for a new relationship with Money.

Let's make money your friend. A good friend you can count on, who shows up for you Always and on time. Ready to support your heart's desires, every step of the way.
You can do this. You can transform all the chaos and dysfunction into Gold.
Money is currency. And currency is Energy. So the equation is an inside out one.
Once you decide that you are ready to update and upgrade a specific area in your Life, all the energy moves with you. Life is ready to support your heart-felt desires. Life wants you shining bright so you can uplift the world with you.
Sometimes, the journey requires learning some lessons and re-building again. But manifesting can also be instantaneous.

You can have A LOT of money and feel poor. You can be eternally worried about it running out. And attract surreal situations.
The brain delivers based on focus. But all the Mindset work in the world won't do it if there are underlying beliefs that need to be addressed:
Do you believe you deserve it ?
Do you believe in ease and grace ?
Do you feel worthy of receiving abundance ?
Do you trust yourself and your desires ?
I made A Lot of money in the world of finance but I didn't understand the difference in energetics between Receiving and Having Money.
So in this course, we'll cover things no-one teaches us. From the first instance, you will feel empowered.

I grew up in Mayfair with a nanny, a cook and a driver. We spent the Summers in the South of France and Winters in our chalet in Courchevel. I had the best education. I worked on Wall Street, made Director in my 20s, dated the guy with the Aston Martin. Bought Chanel and art to my heart's content.
And then, I threw in the towel on a Life that looked good but didn't feel good. I sold my Chelsea maisonette in London and crossed the pond to pursue a Life that made more sense to my soul.
The journey started off with miracles, but then the lessons came. And I had to learn them well.
It turned out money was a big teacher for me. When I found myself with nothing in my bank account and our family funds caught up in the Lebanese financial drama, I had to get ultra creative.
This is when I got down to the real money work and I knew that the quantum leaps I was making had to be shared. 
I continue to share free content. And I will do that no matter whether you choose to buy the programs, or not.
But if you're called to learn more, then I invite you to go deeper into clearing blocks, doubts and limiting beliefs. Because in the end, our fears will pop up so we can heal them, one by one.
Whether the fear expresses itself in your body and health or in your relationships and self-worth, your willingness is all that's needed.
What if you could wake up every day and RISE above the drama, the politics, the noise and just create what you're here to bring into the world 🌟
Yes, those ideas you have are real. And the world needs you to RISE and sparkle. It's time to share your gifts and illuminate the world.
And you can monetise it ! Our monthly targets now are higher than my full year salary when I was in the world of finance.
I've also helped clients lock in multiple 8 figure years, whilst having the freedom to make the impact they desire.

Heart-centred people want money for all the good reasons. We want to uplift ourselves and those we love and the causes we care about… and the world at large 
Money in the hands of good people is one of my business' missions. One person at a time, this is how we create a ripple effect to uplift the world with better decisions at the corporate level, in politics and more 
The more you have, the more good you can do !
If you're feeling called, I would Love to serve you too.
This is where your own in-tuition is your most important guide. You will know when certain info is calling you. You will be drawn to it at the most profound level, because your system recognises that there is something in it for you.

Money is energy. So our relationship to it is continually evolving based on our beliefs, desires, goals and more… We can allow an energy of expansion or we can halt it in its tracks with fear.
In this course, I share many different ways for calling money into your world. Some might resonate more than others. You will decide for yourself which feel best to you.
I also share a super efficient method for clearing your energy if you catch yourself re-visiting old patterns of thought.
Topic 1 Success is an inside job Uncovering the dynamics of money and how to eliminate a lack/poverty mindset.

 

And patterns that you may have picked up from your environment before you knew better. 
Topic 2 The Energy of Money What we focus on expands. Powerful techniques for swiftly shifting perspectives again and again to make sure the energy is flowing in the right direction. 
Topic 3 Miracle conversations When you open up to addressing the issue, miracles happen. I will share how I tripled my salary with one lovely conversation. 
Topic 4 Becoming Magnetic When you fully own your worth, you become naturally magnetic to more money and influence. 
Topic 5 Life Rewards When you look after you, Life looks after you too. This is something we learn backwards so I will show you with real Life examples how this works. 
Topic 6 Money for the Highest good When you're working on something that benefits the world, mountains are removed and funding your ideas becomes a numbers game. You choose how to receive it…
Topic 7 Manifesting Six figures (easily) through Desire The power of Love and Co-creating with Life. Align your energy to be in a fully receptive mode for whatever amount you are choosing to call in.
Topic 8 Owning your Worth When you draw the line on what you will no longer tolerate, you naturally increase your worth. Your system elevates to the next level. And you become a match for that !
Topic 9. Money through Peace Learn how to find your peace in the midst of the chaos. I've manifested multiple £1000s on repeat just through this practice.  
Topic 10 Money through massive action I built a career in finance on this tempo.
I will happily share how you can do this with grace.
Topic 11 Money through Miracles We are always divinely guided and protected. When we trust Life, angels pop up in perfect timing to meet our needs and offer us loving support. Every step of the way.


Sacred Sales: Life itself is a Sales job. Whether it's your kids' greens, dating or a mega deal… The more you believe in what you're offering, the more influence you gather. I will also share with you how to call in soulmate clients, partners, investors and more.
Guided inner work: There are worksheets for you to take deep dives into some areas from your childhood, education and past. You might like to do this work in a journal, using these prompts.
Affirmations/Meditations/visualizations: I will share super powerful affirmations

 

as well as audios you can listen to for wealthy vibes and manifesting beyond your wildest dreams !


Rania Lababidy is an Education innovator, Creativity whisperer, ins
pirational speaker and a bestselling author. Her RISE methodology is embed
ded with the 
latest N
euroScience discoveries.
Rania has presented and coached top executives at Awin, BlackRock, HSBC, Deutsche Bank, Mirabaud & Cie, Morgan Stanley, Unilever, University of London, Wellesley College & New York University. 
Rania founded KidsMeridian in Paris in 2008 to support European schools in opening up to a more creative education with a focus on acquiring multiple langua
ges in early childhood. Rania has a Masters degree from NYU's Steinhardt 
School of Culture, Education and Human Development.
Rania grew up in London, attending the French Lycée and then St Paul's Girls' School. She received her B.A. from Wellesley College in International Relations and was recruited on campus to the world of investment banking.
On her return to the Big Apple as a Director with Deutsche Bank, Rania remembered to follow her heart…
Rania is fluent in English, French and Arabic and has a working knowledge of Italian. She holds a NeuroScience for Coaches certification: Changing Habits and Brain Health. She's also a Montessorian !


I'm very busy. What if I don't have time to complete the course now ?
The program is yours for Life. You can come back to it, whenever it suits you. Most of it is in audio format so you can listen to it when driving or as background anytime you like.
The more this conversation is a part of your day, the quicker the mind picks up the new more empowering beliefs and concepts. The brain works on repetition. Think of it like learning a new language through immersion.
I've kept the content flowing and will add to it as my own experiences grow and expand even further. All future updates and upgrades will also be yours !
What if I haven't yet set up my own business, would this content be good for me ?
Absolutely, this is the basic financial education that I believe we can all benefit from right away.
Whether you are just starting out in Life or a seasoned professional, this course is about the energetics of money. This mindset is what informs the practical steps you may then choose.
It's about becoming magnetic to money… and opening up to receiving it in the most miraculous ways as well !
What if I'm not completely clear on my goals, would I still benefit from this course ?
I believe that Money offers us freedom to choose a Life we Love.
Money allows you to create what you are naturally called to birth into the world. Understanding your Money dynamics can actually lead to more clarity of purpose.
My Success on your terms online program shows you how to clarify your goals and live in energetic flow.
This course will show you how to master the Money part of things which supports your health, creativity, relationships and manifesting the Life of your dreams.
Can you guarantee results ?
I Love this work so much and I completely believe in its transformative power. However, I'm not sure how you will use it and what you will do with the program so I can not guarantee results.


As soon as you enroll, you can access the content immediately.
You will also receive an email with your password details.
Just log in to our Private Members portal on Rania.World
The program is yours for Life so you can return to it again and again for refreshers and to set new goals.
This work is valued at much Higher levels in my private coaching.
My intention is to support good hearted entrepreneurs, executives and more with the Money equation.
So, I'm pricing it at a substantial discount to allow you to get started right away.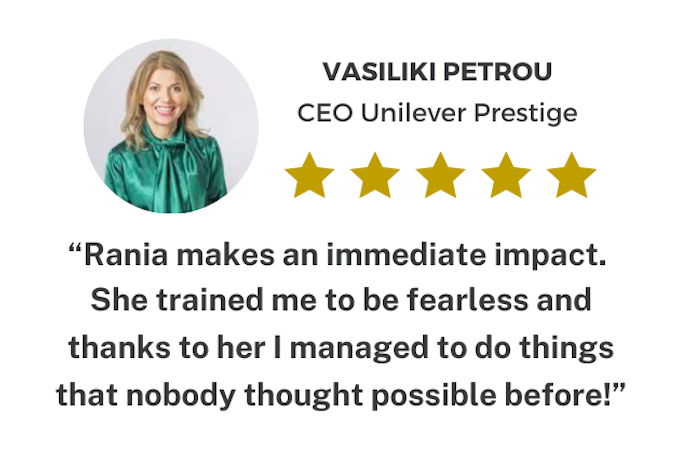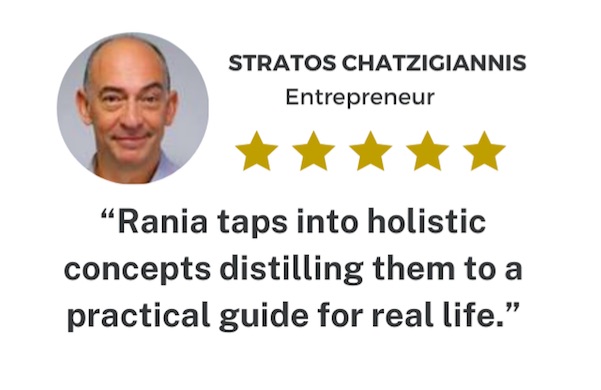 I encourage you to sign up intentionally. Do this for you. Do it on purpose.
This program is non-refundable. I believe so deeply in the power of this work. 
Enjoy the ideas, tips, prompts, energy and good vibes we've infused into this program to uplift you in Every way…
Disclaimer: I don't guarantee results. The testimonials throughout Rania.World may not be typical for everyone.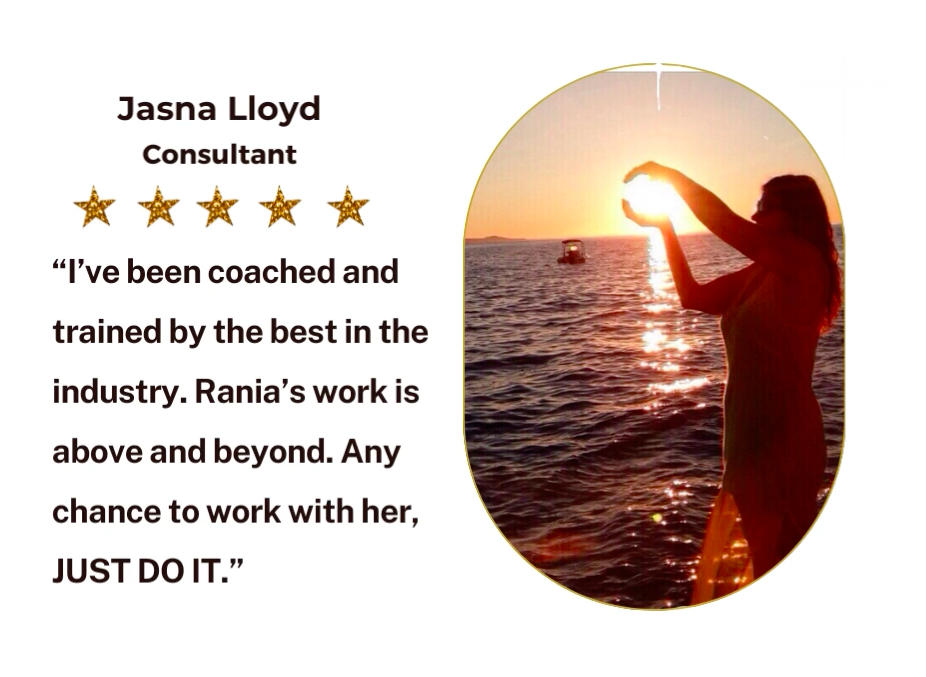 By enrolling in this course, you agree to our Terms